ReFab4.0, Relatech's solution for predictive maintenance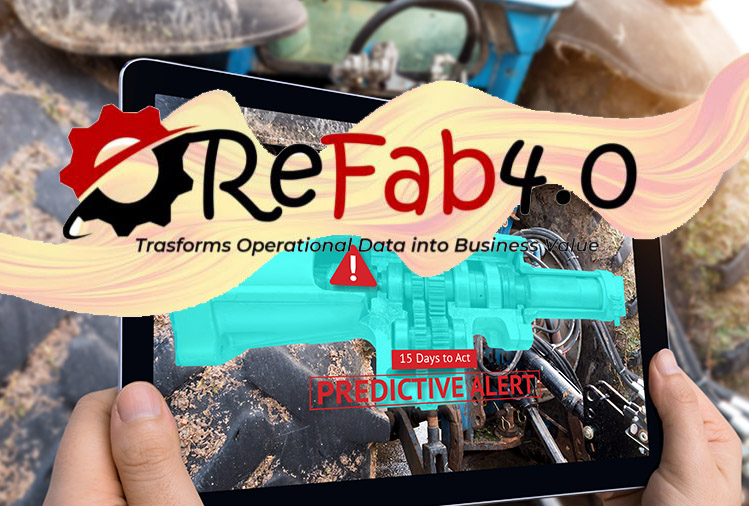 Predictive maintenance is the new frontier of maintenance models adopted by manufacturing companies, and not only, in the era of the fourth industrial revolution. The paradigm of Industry 4.0, in fact, today makes it possible to acquire and model data directly from production plants in order to acquire information with which to optimize maintenance activities.
In this context, ReFab4.0 presents itself as one of the most innovative solutions with which organizations can obtain accurate and real-time control over the operation and efficiency of their plants, also managing to implement predictive maintenance policies with which to reduce one of the most significant cost items in production contexts: unexpected machine downtime.
Based on RePlatform, the cloud-based digital platform developed by Relatech, ReFab4.0 constitutes a verticalization made up of two integrated modular components:
⮚ Predictive Platform
⮚ Digital Twins Assistant
Here there are the respective features.
How ReFab4.0 collects and processes data for predictive maintenance
The Predictive Platform module of ReFab4.0 contains everything you need for the analytical and processing part. Indeed, any predictive maintenance activity requires first and foremost condition monitoring and anomaly detection functions.
Through its IIoT (Industrial Internet of Things) Gateway, ReFab4.0 collects data from the field to carry out both an initial analysis on the trend of the machine park and a survey that allows you to compare the values ​​detected with those considered in the standard. The automatic activation of alarms, for example, is associated with the detection of parameters that differ from those considered standard.
The definition of Analytics models with a predictive character, then, contemplates the use of artificial intelligence, in particular with the use of machine learning algorithms that calculate the possibility of a future failure by putting together, on a statistical basis, the history of the operation of each component considered. Predictive maintenance bases its reliability on the quality and quantity of the data collected and analyzed.
Augmented reality and virtual reality for top maintenance
If the Predictive Platform of ReFab4.0 provides a dashboard that allows you to graphically view, even in mobile mode, all the information on the progress of the various systems connected to the IIoT Gateway, it is with the Digital Twins Assistant module that the monitoring exploits augmented reality or virtual reality.
In case of failure, instead of using paper manuals, it is possible to view maintenance procedures on the App, with different multimedia formats such as video clips, animations and texts shown on top of the component to operate on. Even when the intervention of an external expert is required, who usually collaborates with the system supplier, ReFab4.0 enables remote assistance, as it allows you to share the environment remotely, for example through HoloLens glasses. With the advantage of reducing the number of downtimes, shortening problem resolution times and minimizing errors due to poor understanding of the maintenance procedure. Benefits that not only affect the technical aspects, but obviously affect the entire business of the company.
Not just predictive maintenance: what distinguishes ReFab4.0
What differentiates ReFab4.0 in the panorama of applications in support of predictive maintenance is that it is part of the RePlatform edge and cloud architecture which enables excellent usability, security, scalability and flexibility features thanks to other RePlatform modules like ReSec and ReHub that provide advanced technologies and methodologies respectively for CyberSecurity and Cloud access and compatibility.
CyberSecurity is especially important in the IIOT environment where critical data about machines and processes are exposed to external environments and thus to security threats. Thanks to ReSec the complete data stream from field devices to the cloud can be protected against any security attack and to avoid any data breach. Additionally, ReSec offers a blockchain module that can be used to ensure that data are coming from known certified devices, increasing the overall security of the IIOT solution.
Just as important is the possibility offered by ReHub to deploy ReFab4.0 in any existing Cloud configurations, like public, hybrid and private or even on customer's premises. This frees customers from making a preventive choice about cloud providers and release environments. In fact, ReFab4.0 is based on well known orchestrators such as Kubernetes or Openshift and as such can be released on any cloud infrastructure. In this respect, Relatech can offer different choices; in fact, thanks to their long-term partnership with IBM, they can offer a full integration with IBM cloud and IBM Watson applications with enterprise grade scalability and functionalities.
ReFab4.0 is an end-to-end solution suitable for different types of businesses, that offers a complete predictive maintenance solution based on an enterprise-class modular software architecture to provide scalability and security protection, and on an extensible and configurable AI/ML engine to develop and run effective algorithms to analyse customer's data and provide effective anomaly detection in order to prevent blocking failures in manufacturing plants and productive processes. This is especially where Relatech's competences come into action to complete the digital solution with a customization project aimed at understanding and fulfilling customer's needs.
What distinguishes ReFab4.0 and all other Relatech's solutions, is that they are all based on innovative technologies aligned with the knowledge frontier, constantly updated as a result of Relatech' collaboration with important research centers and prestigious universities.